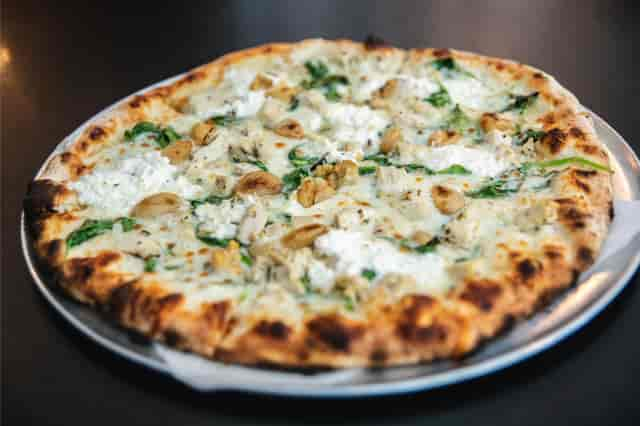 Mobile Brick Oven wood fired pizza
***COVID 19 POLICY*** There is now an additional $50 charge so we can bring an extra employee who will serve the food to your guests. Thank you for understanding
Our Mobile Brick Oven Pizza Trailer is perfect for home parties, family gatherings, graduations, wedding receptions, office parties and corporate events.
Book Your Event
Do you want to book us for your event? Fill out this form and we'll get back with you as soon as possible. Please include the Town and State the Event will be taking place.
We'll customize a catering package to meet your needs. Let us do the cooking and clean-up for you so that you can spend time with your guests.

Minimum charge for any event is $900 (Up to 25 guests) and includes the following:
4 hours total time – 2 hours for set up, heating oven, and breakdown. 2 hours for service
Unlimited Pizza (we will bring 8-10 different toppings to give you a great variety) – We cook until everyone is full!
Unlimited Mista Salad with Chianti Italian Dressing on the side
All equipment, and transportation from a 20 mile radius around Northborough, MA 01532 (Mileage Charges will apply after the 20 miles at $1.50 per mile)
Additional Charges will apply after the initial 20 Miles for Labor depending on how far we are traveling
1- 8ft Skirted table to feature and serve pizzas and salads
White Dinner Napkins, Heavy Duty Paper Plates, Black Heavy Duty Plastic Silverware
Trash Bags, Barrels and clean-up of the area used
We CANNOT do Gluten Free out of our Mobile Ovens due to Cross Contamination and the intense heat of the Oven the GF will not hold up
Upgraded "Glimmerware" (Metallic looking knife / fork) in an upgraded rolled napkin perfect for Weddings and special occasions available for $1.00 / pp
**We need a relatively flat area of 10'x 20' to use during service with at least a 10ft opening to the area you would like us set-up.
Larger Groups:
25 - 50 > $1400
50 – 75 > $1700
75 – 100 > $2000
100 – 125 > $2300
125 - 150 > $2600
Over 150 people – Please contact Todd at info@anziosbrickovenpizza.com


Additional Options
Due to Liability, we are unable to offer Alcohol, but we can direct you to vendors we use.
Additional food items (apps etc.) may also be ordered. Click the Catering Tab on our Website for additional options.


Catering Terms
Weather Policy:
Mother Nature sometimes trumps us both. We can work in light rain and wind, but, in the event we need to cancel due to bad weather, we will reschedule to a date that works for both parties.
Deposit:
We do not take deposits. Once we are confirmed over email, the balance due will be taken a few days prior to your event on CC or you can pay cash day of also.
Booking:
Every event is booked through email, this way everyone has a paper trail to refer to. All events are finalized the Wednesday prior with either full payment on Credit Card, OR Cash day of the event. We DO NOT accept checks


Party Supplies
If you need to rent seating, tables, tents or other party supplies please contact our friends at Something to Rent.