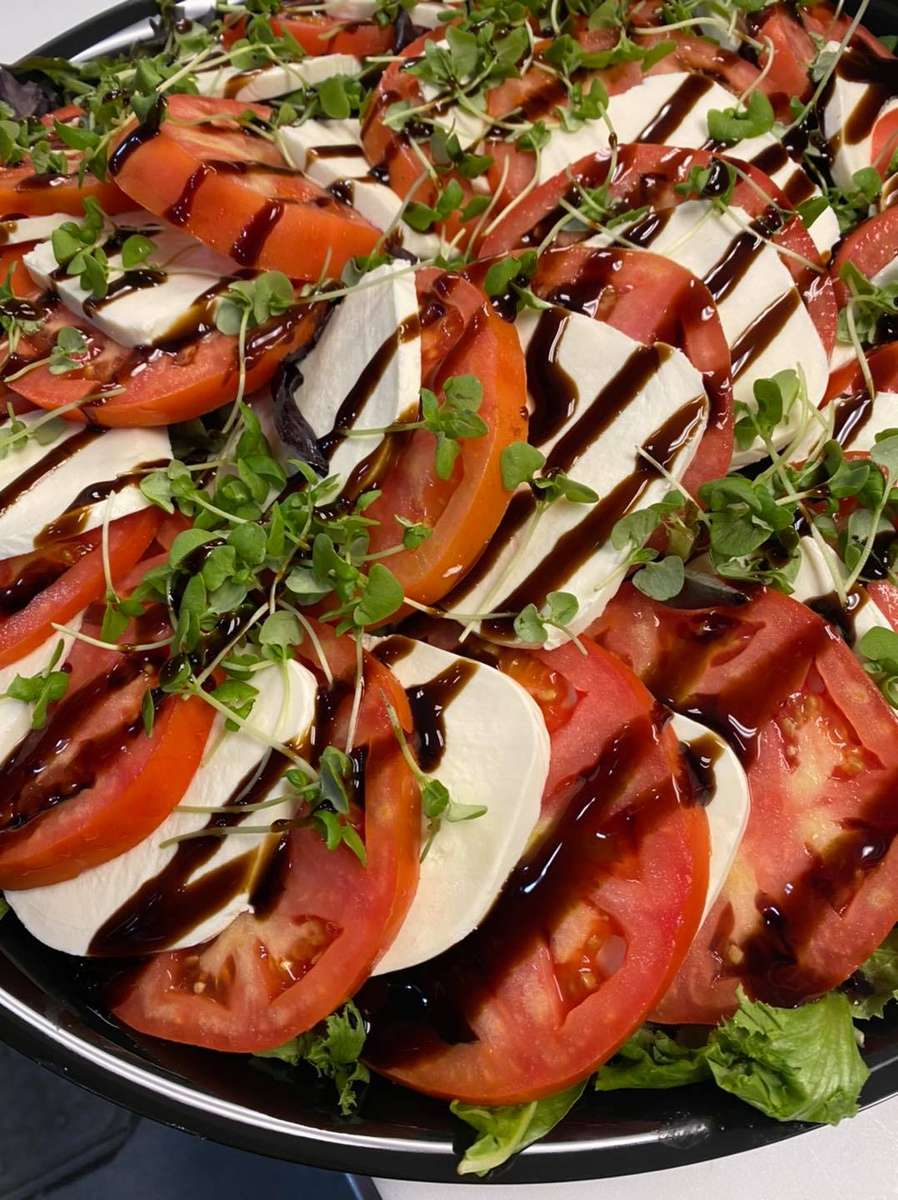 Offsite Catering
Become a VIP
Be the first to receive updates on exclusive events, secret menus, special offers/discounts, loyalty rewards & more!
Catering Menu
Appetizers
(Each will feed 15-20)
Antipasti Platter
Fresh roasted Suntan Peppers, Broccoli, Artichokes, Fresh Cheese from Couet Farm & Fromagerie, 2 Year Aged Parmesan Reggiano, Prosciutto di Parma, Pepperoni, Salami and assorted Frutto Gaeta Olives from Lazio, Italy
120
Sausage Stuffed Mushrooms
Mushroom Caps filled with Spinach, Sweet Sausage, Seasoned Breadcrumbs and Asiago Cheese
100
House Made Meatballs
Our House Recipe using Fresh Ground Beef, Pork and Veal topped with Marinara and Parmesan
Half Tray 50 / Full Tray 100
Chicken Wings - BONE IN
HALF TRAY (50 wings) $50 FULL TRAY (100 wings) $100
Chicken Wings - BONELESS
HALF TRAY (5LBS) $60 FULL TRAY (10LBS) $120
~Sauce Choice~
Mango Habanero, Buffalo, Garlic Parmesan
Salads & Sandwiches
Bulk Caesar or Mista Salad
(Serves 6-8 Guests)
40
Bulk Caprese Salad
Fresh Mozzarella, Beefsteak Tomato, Balsamic Glaze and Fresh Basil
80
Bulk Chopped Salad
Iceberg, Romaine, Bacon, Tomato, Cucumber, Onion, Gorgonzola, and Blue Cheese Dressing
75
Bulk Chicken Bruschetta
Grilled Chicken, Grape Tomatoes, Fresh Basil, Mozzarella Balls, Red Onion tossed with Balsamic Vinaigrette
125
Sandwich Tray
Assortment of 10 of our Freshly Made Sandwiches
100
Entrees
(Half will serve 6-10, Full will Serve 15-20 Guests)

Gluten Free Casarecce Pasta is available for an additional charge of $20 half / $40 Full
Ziti Alla Vodka
Ziti Pasta tossed in a Rich Tomato, Vodka Cream Sauce with Fresh Basil and Parmesan
Half 60 / Full 90
Rigatoni, Broccoli, Chicken Alfredo
Ziti tossed with Fresh Broccoli, Grilled Chicken and our House Made Alfredo Sauce
75 / 150
Baked Eggplant Parmesan (All Parms served with Ziti)
Fresh Breaded Eggplant lightly Sautéed and Baked with Marinara and Fresh and Shredded Mozzarella
50 / 100
Substitute Chicken 75 /150
Substitute Veal 100 / 200
Ziti & Meatballs
Ziti tossed in our Marinara served with House Made Meatballs and Grated Grana Padano
75 / 150
Chicken Marsala
Chicken Cutlets Pounded Thin and Sautéed with Mushrooms in a Sweet House Made Marsala Wine Sauce served over Ziti
80 / 160
Substitute Veal 100 / 200
Lasagna Bolognese
Fresh House Made Pasta Layered with Spinach, Ricotta, Roasted Garlic, Beef, Pork and Veal Ragu and Béchamel with Parmesan and Mozzarella
75 / 150
Crispy Chicken Picatta
Hand Breaded Chicken Cutlet Served with Ziti in a Lemon Caper Butter Sauce
75 / 150
Ziti w/ Sausage, Peppers & Onions
Bianco & Sons Sweet Sausage tossed with Onions, Peppers, Marinara
75 / 150
Ziti Bolognese
Certified Angus ground beef slowly simmered with onions, carrots, celery, San Marzano hand crushed tomatoes and cream
75 / 150
Order
Call to Order
508-466-8227
Please give us 48-hour notice for all catering orders.
**Prices and menu are subject to change and do not include taxes. We reserve the right to correct any errors.
Before placing your order, please inform your server if a person in your party has a food allergy. The consumption of raw or under-cooked eggs, meat, poultry, seafood or shellfish may increase your risk of food borne illness.
Party Supplies
If you need to rent seating, tables, tents or other party supplies please contact our friends at Something to Rent.